Subscriptions

It is free to join and participate in the online community, but there are additional benefits available if you subscribe.
Subscription Features

Access to Coaching Archives
Private Online Community
Advertisement-Free viewing at the forum
Subscription Packages
12 Month: $64.95
6 Month: $39.95
Subscription Benefits
Access to Coaching Archives
When I first started the forum I did written coaching with an agreement that the sessions could be shared with others. The coaching I provide is often relevant for many or even all other MLC situations. You can thus receive coaching without receiving personal coaching.
Private Forum
Are you concerned that your MLCer will find you online? Only paying members can participate in the private community forum. New members with a free-trial to the Coaching Archives cannot access the private community forum. There is no guarantee that your spouse will not find you, as any paying subscriber can read and post in the private forum--though we do screen those who subscribe. But the price point is set to deter such stalking. Other than the privacy, this forum is the same as the public community forum.
Advertisement-Free viewing at the forum
The Hero's Spouse is an income producing business and as part of that I have include adsense advertisements on the forum. Paying subscribers can use the forum without seeing the advertisements--when they are logged into their account. So if you want to use the forum, but don't want to be bothered by the ads, consider subscribing. Subscriptions to the forum will not change the viewing experience at the main website or the blog where there are advertisements because these sites are not connected to the forum.
How to Subscribe
You must be a registered member of the online community and sign up through the forum. Here are pictorial instructions using screen shots from the forum.
Go to your Profile; this is available from any page in the forum. Click on the Profile button itself, or any of the selections in the list.

From your profile page select Paid Subscriptions located beneath the topic heading Actions.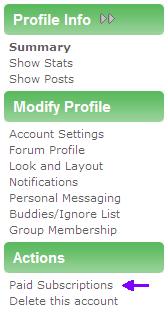 Select your subscription package.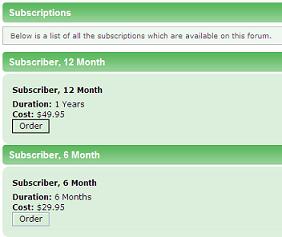 What Will My Statement Say
Some of you may be concerned that your MLCer may see a suspicious statement on your credit or bank statement. The company name does not refer to midlife crisis or this website. I use a neutral name which I will not post here where snooping spouses can find it. But please be assured that I am doing my best to protect your transactions from MLCer suspicion.
---