Link & Book Recommendations

Websites
Midlife Dimensions
This is a Christian based site about midlife crisis and the site offers a live chat several times a week. This is a support group for people who do not want divorces--and often they do not believe or divorce. Jim Conway, the author of Men in Midlife Crisis has retired and the site is now run by Bill and Pam Farrell who wrote Men Are Like Waffles--Women Are Like Spaghetti and other books supporting marriage.
Book: Men in Midlife Crisis
Midlife Club
This offers an online forum as well as other resources.
Book: How to Survive Your Husband's Midlife Crisis
Marriage Builders
This has an online support forums specifically for infidelity.
Book: Surviving the Affair et al.
Beyond Affairs Network (BAN)
Run by Anne Bercht who experienced her husband's infidelity, this site offers articles, seminars and support groups for recovering from infidelity.
Book: My Husband's Affair Became the Best Thing That Happened to Me
Book Recommendations
Purple: Highly Recommended

Midlife Crisis

Brehony, Kathleen A. Awakening At Midlife. New York: Riverhead Books, 1996.
Brewi, Janice and Anne Brennan. Mid-Life Psychological and Spiritual Perspectives. New York: The Crossroad Publishing Company, 1982.
-- Mid-Life Spirituality and Jungian Archetypes. York Beach, Maine: Nicolas-Hays, 1988.

-- Mid-Life Directions: Praying and Playing Sources of New Dynamism. New York: Paulist Press, 1985.
Jungian: The Brewi/Brennan books are excellent. But try Murray Stein or James Hollis first as they are shorter.
Conway, Jim. Men in Midlife Crisis. Colorado Springs: Cook Communications Ministries, Rev ed., 1997.
An excellent starter for an MLCer or a Stander. Christian based, Jim Conway is a minister.
Conway, Jim and Sally. Your Marriage Can Survive Mid-Life Crisis. Nashville: Thomas Nelson Publisheres, 1987 

Conway, Sally. You and Your Husband's Midlife Crisis. Elgin IL: David C. Cook Publishing Co., 1980.
-- Your Husband's Midlife Crisis. Elgin IL: David C. Cook Publishing Co., 1980.
Courter, Gay and Pat Gaudette. How to Survive Your Husband's Midlife Crisis: Strategies and Stories from the Midlife Wives Club. 
This book is like a primer for the Midlife Club website; it is filled with information from women who have experienced their spouse's midlife crises.
Gerzon, Mark. Listening to Midlife: Turning Your Crisis Into A Quest. Boston: Shambhala, 1996. 

Hollis, James. The Middle Passage: From Misery to Meaning in Midlife. Toronto Canada: Inner City Books, 1993.
Jungian: A definite favorite of mine, and short--around 100 pages.
Johnson, Robert A. He: Understanding Masculine Psychology. San Francisco: Harper & Row, 1989.
Jungian: This is not specifically about MLC, but about male psychology. It is around 100 pages and a quick read.
Mayer, Nancy. The Male Mid-Life Crisis: Fresh Starts After 40. Garden City, New York: Doubleday, 1978.
I found this at my local library and had to special order a used copy. It's an excellent look at MLC, though it does not talk about marital relationships and some of the information is grossly out-dated. She references evidence about the possibility of better chances for 2nd marriages; evidence now shows 2nd marriages will have a greater likelihood to end in divorce than first marriages.
O'Connor, Peter A. Understanding the Mid-Life Crisis. New York: Paulist Press, 1988.
Jungian: Excellent! A must have. Hard to find; I had to special order it used.
Roberts, William O. Jr. Crossing the Soul's River A Rite of Passage for Men. Cleveland: The Pilgrim Press. 1998.
Jungian: Robert's intended audience is the midlifer and his focus is the journey and creating Rites of Passage. If you are interested in learning more about midlife transition (MLT), the feelings and trauma of the person within the journey and the ways they can get through, this is an excellent book.
I reviewed this on my blog here.
Stein, Murray. In Midlife. Putnam CT: Spring Publications, 1983.
Jungian: I loved this. It is what I used to describe the stages. The first one or two chapters are pretty dense; it gets less dense after that, so stick through it. Relatively short--100-200 pages.
Whyte, David. Midlife and the Great Unknown [UNABRIDGED] (Audio CD). Louisville, CO: Sounds True; Unabridged edition, 2003.
David Whyte is a poet. This is a beautiful collection. It is not a poetry reading but a discussion in which he integrates poetry.
Depression
Aronson, Emme and Phillip. Morning Has Broken: A Couple's Journey Through Depression. New York: New American Library, 2006.
A personal memoir about a spouse's depression; this is not about MLC depression.
Flach, Frederic, M.D., K.H.S. The Secret Strength of Depression. Long Island City NY: Hatherleigh Press; 3rd edition, 2002.
Is depression bad, or does it serve a purpose?
Golant, Mitch Ph.D., and Susan K. Golant. What to do when someone you love is depressed. New York: Henry Holt, 1996.
Informational and Instructional, reviewing both what depression is and what to do about it.
Hart, Archibald D. Unmasking Male Depression. Nashville: Word Publishing, 2001.
Lynch, John, and Christopher T. Kilmartin. The Pain Behind the Mask: Overcoming Masculine Depression. Philadelphia: Haworth Press, 1999.
Real, Terrence. I don't want to talk about it : overcoming the secret legacy of male depression. New York: Simon & Schuster, 1997.
This is the most important book to read for understanding male depression.
Rosen, Laura Epstein. When someone you love is depressed : how to help your loved one without losing yourself.
Solomon, Andrew. The Noonday Demon: An Atlas of Depression. New York: Scribner, 2001.
This book won the National Book Award. It is a long (443 pages before notes and bibliography) journey into the darkened mind of depression.
Strauss, Claudia J. Talking to depression : simple ways to connect when someone in your life is depressed. New York: New American Library, 2004.
Though this book provides information on depression, it focuses on how to connect and talk to someone who is depressed, it offers specific statements to say and what to avoid.
Styron, William. Darkness Visible A Memoir of Madness. New York: Random House, 1990.
A personal account of depression by the author of Sophie's Choice. 
Wexler, David B. Is he depressed or what? : what to do when the man you love is irritable, moody, and withdrawn. Oakland CA: New Harbinger Publications, 2005.
Infidelity
Abrahms Spring, Janis After the Affair: Healing the Pain and Rebuilding Trust When a Partner Has Been Unfaithful. New York: Harper Collins, 1996.
This is the #1 rated book in the Couples & Family Therapy category on Amazon.
Bercht, Anne. My Husband's Affair Became the Best Thing That Ever Happened to Me. Victoria Canada: Trafford Publishing, 2004.
This personal account is a must read; it's one of the best infidelity books I've ever read. It is not informational or instructional, it is a memoir and purely emotional. The author also runs the Beyond Affairs Network (BAN) website listed above in the website resources. 
Brown, Emily M. Affairs: A Guide to Working Through the Repercussions of Infidelity. San Francisco: Jossey-Bass Publishers, 1999.
This book reviews various types of affairs. It is informative, but flawed in its view of what type of affair is an MLC affair, though otherwise helpful.
Browne, Marie H. R.N., PH.D, and Marlene M. Browne, ESQ.. You Can't Have Him--He's Mine. Avon MA: Adams Media, 2007.
Glass, Shirley P. Not "Just Friends": Protect Your Relationship From Infidelity and Heal the Trauma of Betrayal. New York: The Free Pres, 2003.
This is long, but an excellent informational text filled with statistics.
Harley, Willard F. and Jennifer Harley Chalmers. Surviving an Affair. Grand Rapids MI: Revell, 1998.
This book reviews specific strategies for recovery. Chapter 6 reviewing Plans A & B is especially beneficial to Standing.
Lusterman, Don-David. Infidelity: A Survival Guide. Oakland CA: New Harbinger Publications, 1998.
This is relatively short ~ 200 pages, and more informational than instructional, but the information is excellent.
Neuman, M. Gary. The Truth about Cheating: Why Men Stray and What You Can Do to Prevent It. Hoboken NJ: John Wiley & Sons, 2008
Page, Susan. How One of You Can Bring the Two of You Together. New York: Broadway Books, 1997.
Pittman, Frank S. Private Lies: Infidelity and the Betrayal of Intimacy. New York: W W Norton & Co Inc. 1989.
I love this book. It's older than the others, but an excellent resource of information.
Shriver, Gary and Mona. Unfaithful: Rebuilding Trust After Infidelity. Colorado Springs: Cook Communications Ministries, 2005.
A religiously-based personal memoir with sections written by both the husband and wife.
Snyder, Douglas K. Snyder PhD, Donald H. Baucom PhD, and Kristina Coop Gordon PhD. Getting Past the Affair: A Program to Help You Cope, Heal, and Move On -- Together or Apart. New York: Guilford Press, 2007.
The authors state it is the only book with a program that has been proven. It is both instructional and informational. Each chapter ends with exercises.
Vaughan, Peggy. The Monogamy Myth: A Personal Handbook for Recovering from Affairs. Newmarket Press, 1999.
This is an excellent informational book by a woman who experienced her husband's infidelity and made a career out of helping others. She is the founder of the Beyond Affairs Network, now managed by Anne Bercht.
Marriage Help
Chapman, Gary. The Five Love Languages. Chicago: Northfield Publishing, 1992.
A helpful book for looking at your marriage from a needs-based perspective to understand how you feel loved versus how your spouse feels loved.
Conway, Jim and Sally. When a Mate Wants Out: Secrets for Saving a Marriage. Grand Rapids MI: Zondervan, 1992.
Deluca, Phil. The Solo Partner. Hartley & Marks: Point Roberts WA., 1996.
I have ranked this book high for the Pursuit & Distance chapters. I found much of the book tedious due to the lengthy workbook templates for completing. There is nothing wrong with those sections and many of you may appreciate that format. But I feel the Pursuit & Distance is a topic every Stander should learn about in depth and for that, this book is excellent.
Dobson, James C. Love Must Be Tough: New Hope for Marriages in Crisis. Waco, TX: Word Books, 1983.
This book is a classic. Tough love is important, but be careful of ultimatums in early MLCs; they may backfire and are recommended more in later stages.
Weiner-Davis, Michele. Divorce Busting: A Step-by-Step Approach o Making Your Marriage Loving Again. New York: Simon & Schuster, 1993.

-- Divorce Remedy. New York: Simon & Schuster, 2001.
Divorcebusting and Divorce Remedy are about saving your marriage together or alone. Divorcebusting was published first (1993) and is about finding solutions rather than focusing on problems. Divorce Remedy is more recent (2003) and takes over where Divorcebusting left off--it does not focus so heavily on reviewing the academic concept of solution-oriented brief therapy. Divorcebusting is like the informational part and Divorce Remedy is the instructional part.
---
---
Do you feel like a deer about two seconds after seeing the headlights?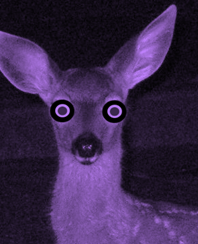 You know you've gotta stop crying, panicking or asking your spouse ANYTHING. And you know you should let-go and give space so that you can learn to respond and communicate with your spouse from a place of calm rather than emotional hurt.
Introducing
Understanding Midlife Crisis
The foundational course to give you answers and clarity into "What the he!! Is going on with my spouse!"